Shopping Cart
Your Cart is Empty
Thank you for your business!
You should be receiving an order confirmation from Paypal shortly.
Exit Shopping Cart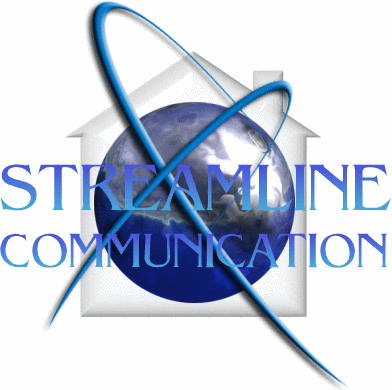 STREAMLINE COMMUNICATION OF DENVER, COLORADO
Audio, Video, Structured Cabling, Video Surveillance, Prewire, New Build, Home Theater, TV, Wall Mount
846 S Miller Street
Lakewood, CO 80226
303-985-8404 Office
720-353-2803 Cell
Mon-Fri: 9:00am - 7:00pm
Sat: 9:00am 6:00pm
Sun: 10:00am - 5:00pm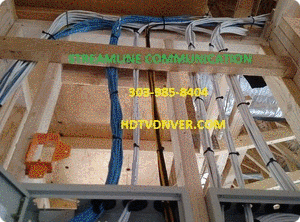 We specialize in affordable pricing and top quality work on:
1. TV mount on drywall, stone, & brick (wood or metal beams)
2. Concealing tv wiring
3. Mounting and installation of front projector units and projection screens
4. Speaker mounting and concealing speaker wire
5. Setup and calibration of audio and video equipment
6. Programming and set-up of universal remote controls
7. In-wall and in-ceiling speaker installation
8. Installation of multi-zone audio and control systems
9.Wiring home with cat-5(cat5e) and cat-6(cat6) for ethernet connectivity
10. Cable tv wiring and installation of additional wall outlets
A. Home Theater & Audio Video Installation
B. Don 't just let anyone install your expensive Flat Screen HDTV.
C. Protect your investment and leave it to with over 20 years of experience.
D. When we're done your Home Theater system will look great and sound incredible.
E. We ensure proper attention to every detail.
Customer Satisfaction is our # 1 Priority
Our experience and expertise in this industry has been built by over 20 years of dedicated service.
We offer a wide range of services from the basic mounting of a flat panel plasma or LCD TV to full home audio and video system integration.
1. Setup of all your Audio & Video Equipment
2. Flat-Panel, Plasma, and LCD TV ...... Wall-mount Installation
3. Projection TV ...... Ceiling or Wall-mount Installation
4. Speakers . . .......... Mounted on Wall, In-Wall or In-Ceiling
5. Whole Home Audio
6. Cable & Satellite Box Setup wiring and instillation
7. Blue-Ray
8. Gaming Counsel
9. Home Computer & Internet complete Installation
10. Home Networking (wired or Wireless) Installation and Setup
11. Programming and Set-up of All Remote Controls
12. Running Wires Through Walls, Attics, Ceiling, or Crawlspace
Whether you have just two simple speakers and a receiver or a complete 5.1/7.1 surround sound system, we know what it takes to get the maximum performance out of your equipment.
We also wire new home construction, remodel homes, and existing builds regardless of the house design (single or multi story, with or without crawl access).
If you have anything related to home audio, video, phone, or Internet to install,
We know Streamline Communication is the right choice for your home theater project no matter how big or small!
All work is done to an extremely clean and exact standard, at extremely competitive and affordable prices.
Call or email today for a custom quote:
? Immediate appointments available for the Denver Colorado Metro and surrounding areas.
?100% satisfaction guaranteed!
Contact us at 303-985-8404 or email us at: [email protected]

Denver Colorado Install Coverage Area.
We cover the Denver Colorado Metro Area and surrounding Communities in Colorado which include:
Denver Colorado South: Highlands Ranch, Littleton, Denver, Englewood, Cherry Creek, Parker & Centennial
Denver Colorado West: Lakewood, Golden, Wheatridge, Arvada, Littleton, Ken Caryl, Denver, Morrison, Evergreen, & Conifer
Denver Colorado North: Thornton, Northglenn, Westminster, Arvada, Denver, & Federal Heights
Denver Colorado East: Aurora, Commerce City, Denver, Montbello, & surrounding areas.
North Colorado: Boulder, Longmont, Loveland, Lousville, Laffeyette, Fredrick, Firestone, Erie, Johnstown, and surrounding areas.
Southern Colorado: Castle Rock, Parker, Franktown and surrounding areas!
A Professional Cabling & Wiring Install Company Located in Denver Colorado
Streamline Communication's main purpose is to help residents and companies install and manage their TV, Voice, Data, Audio, Video, Home Theater, Surround Sound, Flat Screens, Televisions, Security Cameras(CCTV), Prewire, Postwire, CATV, POS, Structured Cabling/Wiring & Home Automation Systems. Streamline Communications is a company based out of Lakewood, Colorado. We cover the Denver Colorado Metro Area and surrounding areas.
We have made a reputation on providing quality service and delivering a quality product.
WE MAKE AND KEEP OUR CUSTOMERS HAPPY! DENVER COLORADO'S PREMIER CABLING INSTALL COMPANY
For All Your Low Voltage Structured Wiring & Cabling Install Needs in and around Denver Colorado.
Streamline Communication 720-353-2803 Cabling, Wiring, Prewire, Retrofit, TV, Home Theater, CCTV, Audio, Video, Voice, Data, Remodel, Construction, Home Build, Structured Cabling, Smarthome, Security Cameras, Surveillance, Pre-Wire, Speakers, Whole Home Audio, TV Wall Mount, Lakewood, Colorado, Denver, CO, Littleton, Arvada, Golden, Conifer, Evergreen, Denver Metro Area and Surrounding Communities https://www.facebook.com/StreamlineCommunication http://www.hdtvdenver.com/installation.htm
Closed Circuit Television (Security Cameras) (CCTV) Install

Home Theater Install

Plasma, LCD, Flat Screen Install (Wall Mounted)

Home Automation Install

Sound Systems (Surround Sound) Install

Telephone Systems Install

Intercom Systems Install

Cable Television Systems (CATV) Install

Audio / Video / Data / Telecom Cabling & Wiring Install

Low Voltage Landscape Lighting Install

Prewire & Postwire Install

Structured Cabling & Wiring Install

Residential & Commercial Install
Closed Circuit Television (Security Cameras)
Structured Wiring (Prewire & Postwire) offers you the highest quality CCTV products ranging from miniature fixed lens cameras to traditional CCD cameras and state-of-the-art Digital Video Recorders.
Home Theater
Enjoy your own home theater with complete surround sound. We offer professional installation (prewire & postwire) and setup of entertainment centers and media rooms, including Plasma and LCD TVs wall mounted with concealed cabling. Bring the popcorn and feel like your downtown in the movie theater. Digital Satellite on a Plasma or LCD television, enhances the home theater experience. Have Streamline Communication install a Directv satellite system, Plasma tv, and home theater in your new or present home. This can be accomplished by a prewire or postwire install.

Voice (Telephone Systems)
Structured Wiring (prewire & postwire) can efficiently distribute your telephone, fax and Internet dial-up lines throughout your home or business. This gives you the flexibility to switch locations of telephone lines without having to call the Phone Company or add new outlets. In addition, we provide and install a variety of telephone systems for your home or business including digital and IP phones.

Data
Our data wiring services (prewire and postwire) offers the freedom of sharing data and broadband Internet connection anywhere in the home or business. This allows businesses to network their computers and distribute high speed Internet connection to multiple PCs in multiple locations. Most families also find this feature especially helpful as it allows family members to use the same Internet connection simultaneously without having to wait for one another.

Video Distribution
Through video distribution you can watch TV anywhere in your home including a baby monitor, front door Cam, VCR, DVD, and satellite. For example, imagine being able to switch to a set channel in any room in the house to see the baby's crib through a camera installed in the baby's room, or view the front door cam to see whom is at the door. Watch it all on a wall mounted plasma tv or LCD in your own home movie theater! Prewire and Postwire installations! With a Directv satellite system, your plasma tv and home theater experience will make you feel like your riding right along with good ole' number 8 on the NASCAR race track.

Audio Distribution
Listen to your favorite music anywhere in your house from the same audio source. This is ideal for entertaining your guests inside the house or out on the patio. That plasma or LCD would look so much better with the right home theater surround system. Prewire and postwire installation! With the proper install, your satellite system, plasma tv, and home theater will be the envy of all your friends and family. Have Streamline Communication prewire or install the perfect system in your home today! Moreover, business can benefit from this feature for a voice paging system, ads and announcements or to play music during business hours.

Home Automation
Home automation creates an environment in the home that is adjustable to meet the demands and changes in your lifestyle. It allows you to make changes to the state of your home from the comfort of your own couch, from your web browser at work or from your mobile telephone. Your home is never out of your reach.

Intercom Systems
Structured Wiring offers a wide range of voice/video intercom systems for your home or business. Imagine being able to talk to someone at the front door while you're upstairs or monitor the sounds from the baby's crib while you're in a different room. You can also play music through the house, call everyone for dinner, and even remotely view the front or back door cameras all from a central location.


google-site-verification: google90631eadcbfc2f68.html
/